Daikin Aircon Servicing & Installation
One of the Best Selling Aircon Brands in Singapore
One of the Best Selling Aircon Brands in Singapore
Daikin is the only Japanese Aircon Specialist, which applying forward-looking technologies to deliver superior, energy-efficient products for customers to enjoy quality lifestyle. Since 1968, Daikin has witnessed the Singapore nation's growth from former colonial port to the world busiest port as well as becoming a global financial, trading and industrial center. Daikin was the first to introduce multi-split air-conditioning systems to Singapore house owners and introduce the world's first super-efficient VRV system for commercial buildings. In line with Singapore quest for greater eco-friendly and higher energy efficiency products, Daikin also promoted their inverter technology recent years.
Here at Sky Breeze, our reliable technical experts are well-versed with installation, maintenance, and repair services for all Daikin aircon models. Servicing Daikin aircons is our bread and butter and hence, we are well-equipped to deliver only the best value to our customers.
Daikin Smile series aircon are recognized as the highest energy efficiency rating and been given a superior 5 ticks by NEA. With Daikin inverter system, it offers the most energy and electricity saving for all customers. Aside from giving the strongest cooling (1 outdoor unit able to maintain comfort up to 5 rooms), it also among the quietest which has only 19dB for the sound level. It also super flexible-usage where you can enjoy hassle-free future expansion with the flexibility of installing additional indoor unit(s) anytime.
Smile series also has the stylish and compact design which won the Good Design Award. The compact outdoor unit (Height = 695mm) allows easy installation through the HDB narrow window and limited space. The indoor FCU has simple yet stylish outlook to blend gracefully and match with any home interior design. The compact FCU design also allow it to be installed above the door to solve space constrains.
Daikin Smartphone Control also available for Smile series aircon but it is optional. Daikin Mobile Controller with Remote Control PC Board set need to be included in indoor FCU if you wish to have the Smartphone Control. With this function, you are able to control the aircon anytime from everywhere via your smartphone. With this function, you may ON your aircon before you are home so that you could enjoy the chill air when you reach home. Besides, you also can check if you forgot to OFF your aircon after leaving your house.
Similar with Daikin Smile series, ISmile series aircon also using Daikin inverter technology and being recognized as 5 Ticks energy savings from NEA. Besides have a built-in smart control feature, it also providing strongest cooling and quietest sound level for you.
Different with Smile series, ISmile series aircon has PM2.5 filter and provides you with a superb air quality. PM2.5 stand for Particulate Matter that smaller than 2.5 micron which consist of mixture of solid particles and liquid droplets found in the air. PM2.5 particles is small enough to be breathed deep into the lungs and highly sensitive especially for children, pregnant women and people over 65 years old. With PM2.5 filter, indoor air quality can be improved significantly and help to keep your home cleaner and healthier as well as improving your quality of sleep.
Daikin ISmile series is Smart Home Upgradable and it is optional. Smart home technology provides your living with an enhanced lifestyle of comfort, convenience, home ecosystem and security. With a smart home system, the electronic devices and appliances can be connected via WIFI to communicate with each other. Regardless when and where you are, you can seamlessly control your air-conditioners, air purifier, fan, lightings, CCTV as well as home alarm system from your smartphone.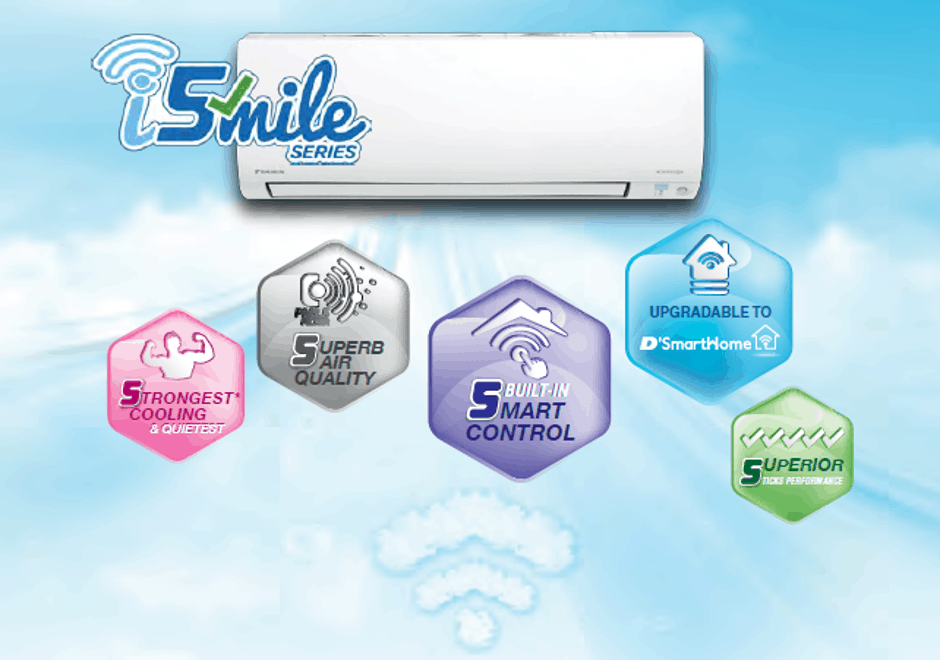 Searching for a Reliable Daikin Aircon Servicing in Singapore?
With its constant innovation, Daikin is one of the most advanced air conditioner brands that continues to deliver high-quality, energy-saving products. Proper installation and regular Daikin aircon maintenance are essential to continue enjoying the coolness and comfort it offers. So, make sure to take care and maximise your Daikin air conditioners by getting reliable Daikin aircon servicing in Singapore.
Whether you are looking for a trusted contractor offering installation, maintenance, and repair services, you can contact Sky Breeze Aircon Experts. For enquiries, contact admin@skybreeze.go or +65 9755 3586 now!
The use frequency of your aircon and environment conditions will affect the performance of the aircon units. Research shows that the aircons which are well maintained and having them serviced at least quarterly a year, the performance is improved as well as the life span will be prolonged too.